September 30, 2018
Important ways to improve SEO using Google Trends
How to Use Google Trends for better SEO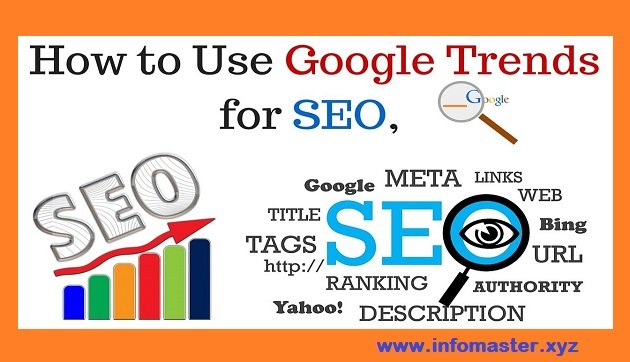 Google Trends is one of the most beneficial and amazing free tools for SEO that allows you to easily find out how your target keywords are being searched by people for over time, across the world. It helps to analyze the keywords to target according to users' interest.  No doubt, Google trend is a valuable tool for companies inspecting the status of their brand and analyzing consumers' choice in order to create content accordingly. It gives you a visual, dynamic portrait of a keyword's lifetime of past, present, and potential future.
Have a look at some of the important ways to improve SEO using Google Trends:
How to Use Google Trends for Keyword Research
Best 5 Important Ways to Improve SEO Using Google Trends
Search The Trending Topics
Google Trends helps you to dig the most trending topics relevant to your business. It offers you the best platform that gives you with the list of keywords which are most searched by people. Give us a chance to comprehend this by taking an example. If you enter the topic like 'shoes' in the dashboard, it will immediately show a list of trending related topics for your business. You can drill down to get more specific keyword ideas and their search trend using the following ways:
Geographical Location Filter: With this factor, you can search the keyword for a specific geographical location. Whether you are looking for worldwide or any local region, you can get the best results for all.
Time Filter: Time filter allows you to get a search trend, how much trending your topic was from the last 5 years. It is a great way to analyze the search trend from short-term to long-term for your target keyword.
Category Filter: This feature allows you to specify your keyword more accurately. Filtering through this method will not confuse your customer with similar but irrelevant keywords.
Search Type: Search type is also another important filter option that informs you the source of search traffic – whether it was done via Google Search, YouTube, and Google News etc.
Focus On The Context
Obviously, Context is very important to evaluate the overall popularity of the relevant keywords. Don't search the topics for your brand without comparing it other over diverse locations, time durations or web search categories. Focus on evergreen and trending topics. Your content should not be seasonal; rather it should be ever popular which can be used from time to time to give your SEO efforts, an enhancement.
Advanced Insight with Specific Search Options
Google Trends provides great options to spring the specific and advanced insights for the targeted keywords for the following significant platforms.
Web search
News search
YouTube search
Google shopping
Image search
With Google Trends, you can explore the best trending topics for all the above segments of your potential market. It provides the ultimate search trends for these platforms and allows to target keywords accordingly. For example, if you are searching for the YouTube option, searching for any keyword will fetch you the list of relevant topics according to audience preference.
Location Based Keyword Targeting
Location-based keyword targeting is the ultimate trait of Google Trends which allows you to find the trending topics as per the geo-specific interest of searchers. It might be possible that any search query performs well in some part of the world but is not appealing for searchers of another part of the globe. In such a situation, this feature greatly assists marketers to fetch the best results according to their targeted location. This will significantly help you to run your PPC campaigns more efficiently.
Use Long Tail Keywords For Content Creation
Long tail keywords surely bring the best results to your brand promotion. Improve your search ranking by optimizing long tail keywords for your products and services.  Let Google Trend work for you in order to yield the top questions searched by the visitors. Improve your keywords accordingly and avail the ultimate benefits of this factor.
Final words
Google Trends has improved a lot over the upcoming years. The updated version allows you to best optimize its features and discover numerous insights to improve your brand ranking. It efficiently helps you in searching trending keyword ideas within your niche depending upon the category, geographical location and time interval. By using these features, create the quality content that will drive the traffic to roll the profit ball high.
We hope you would like this post. If you find we had missed some important points related to Google topic, please do mention in the comment section below. We welcome your queries and suggestions.