August 19, 2018
Asian Games 2018: Wrestler Bajrang Punia won India's first gold medal
Wrestler Bajrang Punia won India's first Gold medal at Asian Games 2018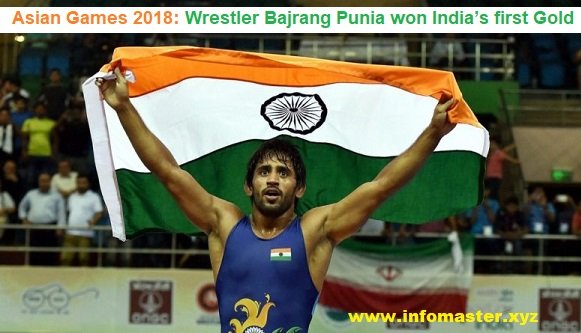 Wrestler Bajrang Punia won India's first Gold medal in the men's freestyle 65 kg category at the 18th edition of the Asian Games final in Jakarta on Sunday with an 11-8 victory over Japan's Takatani Daichi. It was Bajrang's second successive gold medal in the Asian Games.  In April this year, the 24-year-old had clinched Gold in the 65 kg category at the Commonwealth Games. Along with that, he became the first Indian to win Gold in the current Asian Games 2018
Bajrang Poonia already made a 6-0 lead in the first minute.
Bajrang started the best in the first round. He played his first take on take-down and scored 4 points straight away. He already raised 2 points in the minute and scored the scoreline 6-0. However, Japanese wrestler Takatani made a comeback in the match by getting 4 points until the end of the round.
Japanese wrestler come back, but the match won by Bajrang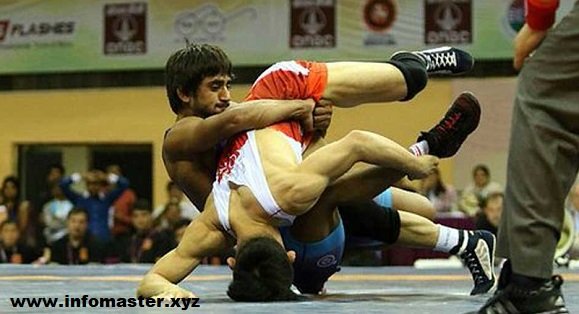 In the 2nd round, Takatani of Japan started well. He quickly scored two points to score 6-6. This match was only 20 seconds. Bajrang made 4 points after this and scored 10-6. After the edge, Bajrang was a bit defensive. Watching the passive game of Bajrang, the referee gave two points to the Japanese player. But it was late by then. Bajrang collected one more point in the last moments and won the match 11-8.
Bajrang won all three matches in one way
Bajrang earlier won all three matches in one way. In the semi-finals, he defeated Mongolia's Batchulun 10-0. In the quarter-finals, Tajikistan's Fajev Abdelkasim was defeated by 12-2. Bajrang beat Uzbekistan's Shirozuddin Khasanov in the first match by a gap of 13-3.
Four months ago, he became the Commonwealth Champion
Bajrang has won a Gold medal in the multi-national tournament for the 2nd time in 4 months. He had earlier won a Gold medal in the Commonwealth Games in April 2018. Four years ago, he had clinched Silver Medal (61kg) in the Incheon Asian Games and Glasgow Commonwealth Games. 24-year-old Bajrang has won a bronze medal in the Budapest World Championship in 2013.