April 7, 2018
Best career options for the students to make a good career after 12th grade.
Career Guidance and Career Options After 12th Grade
As CBSE class 12th board exams are nearing their end, some of the predominant questions stuck in everybody minds are:
What do we do next?
What are the future career options?
Which courses should we apply for? So on and so forth.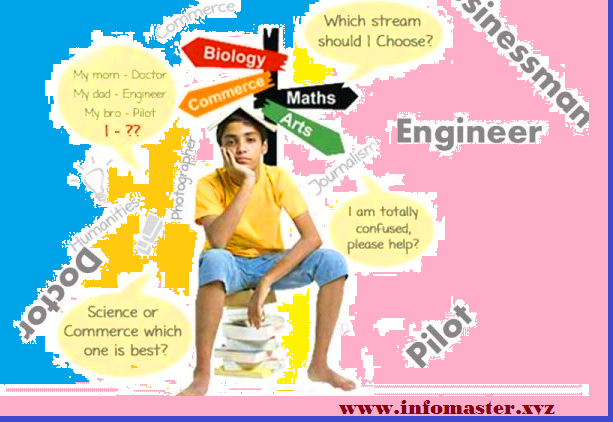 After Completion of 12th standard, a turning point comes in the student's life where they have to build a good career and live a prosperous life; one must be well planned and prepared at this point in time. Here, we try and answer these questions and clear the mist of confusion clouding every student's mind.
Not everyone wants to be a doctor, engineer or a dentist. Today, young students are ready to explore various other career options. In this article, we have specified various courses for you, once you have completed your 12th grade.
A student needs to choose his/her career path after plus two, the final stage of their school life. While numerous courses are available, choosing a right career path after 12th standard is a challenging task. Most students may have already selected their subjects for 12th grade, depending on their interest in career choice. But some might be in a problem about 'What career to take up next after 12th?'
There are various options available to pursue a career after 12th grade. Making the right career choice at the appropriate time will bear profitable results for the future. So what are the best career options for students after they have completed their 12th grade?
Well! It depends upon the stream in which you completed your Intermediate. If you are from science then you could choose a career in engineering or medical. If you are from commerce then you could for B.com similarly if you happened to be from Arts then you might like to go for B.A.
Thankfully, this post will be of great help to those, who are going to pass 12th grade or will begin it. Here we are providing detailed information on career options available for students after their 12th grade in the Arts, Science & commerce streams. They need proper guidance to select a right college and the right course.
Career Options After 12th Commerce
Students, who have taken up commerce stream in 12th standard, have an excellent future in banking and financial institutions. There are various subjects studied under commerce stream some being theoretical like Business Law and others being practical like financial accounting. Commerce streams are offered in 12th grade with and without Mathematics.
However, now there are many other options that a commerce graduate can pick. So here are some of the courses that you can go for:
Banking – Retail / personal banking, Corporate banking, Merchant banking, Treasury group, Rural banking, Product management, Loans executive
Accounts – Cost and Work Accountant, Chartered Accountant, Certified financial planner, Certified Financial Analyst,
Insurance – Actuarial Science, Insurance and Risk management, Insurance surveyor, Insurance surveyor, Insurance agent
Investments –Investment Banker, Equity Research Analyst, Stock Broker, Capital market manager, Mutual fund executive, Venture Capitalist, Forex Dealer, Real estate
Management – Human Resource Management, Brand Management, Event Management, International business management, Market Research Management, Retail Management, Marketing And Sales Management, Technology management, Disaster management, Education management, Financial Management, Export Management, Rural Management, NGO management, Material management, Family business management, Business Development Management, Operation And Logistics Management
Finance – Certified Financial Analyst – CFA, Certified Financial Planner – CFP
Company Secretary
Computers-Software development, System Architect, Web developers, Multimedia designer, Database Administrator, Data processing assistant/ Data entry operator, System/IT manager, Servicing and Maintenance technician, Technology management
Economist
Career Options After 12th Science
A number of career options are available for 10+2 science students. The major advantage of +2 science students is that they can change to other careers i.e. arts, humanities or even to commerce.
However, now there are many other options that a science graduate can pick. So here are some of the courses that you can go for:
+2 Science with PCM
Candidates who have studied the subject combination of physics, chemistry, and mathematics (PCM) in class +2 can take up engineering as their career.
Engineering (B.E/B.TECH) – Mechanical, Automobile, Electrical, Aerospace, Agricultural, Computer, Construction, Bio-Informatics, Broadcast technician, Ceramic, Chemical, Civil, Electronic, Engineer Manager, Environmental, Fire, Food, Bio-Medical, Biotechnology, Bio-Instrumentation, Industrial, Instrumentation, Leather, Marine, Mining & Metallurgical, Nanotechnology, Printing, Production, Plastic & polymer, Highway, Rubber, Genetic, Textile, Telecommunication
Architecture (B.Arch)
Commercial Pilot
Merchant Navy
IT or Information Technology (Bachelor Degree in Computer Science) –Database Administrator, Application Programmer, Information Technologist, Medical Transcriptionist, Software Engineer, System Architect, Network Administrator, Web Developer, Multimedia Designer, Technology Manager
Hardware – Hardware Design And Development Engineer, Design and Development of Computer Hardware, Design And Development of Customized Microprocessor, Design and development of networking hardware, Service Maintenance Engineers/technician
Defense Services – Indian Army, Indian Air Force, and Indian Navy for officers
Physical Science – Chemist, Mathematician, Forensic Science, Astrophysicist, Astronomy, Oceanography, Operation Research, Geographer, Geologist, Nuclear Physicist, Physicist, Statistician
Pharmacy – Clinical Research
+2 Science with PCB
Candidates who have studied the subject combination of physics, chemistry, and biology (PCB) are required for students aspiring to take up careers in medicine or dental studies, biochemistry, biotechnology, microbiology, agricultural and dairy science. Options are also available in the paramedical and allied fields such as Nursing, Physiotherapy, Occupational therapy, Audiology, Speech Therapy, Medical Lab Technology, Optometry, Nutrition and Dietetics, Pharmacy and so forth.
Those interested in animal husbandry and veterinary science can take a career as a veterinary doctor. For that, they require appearing for the entrance examination conducted by Veterinary Council of India for getting admission to first year Bachelor of Veterinary Science and Animal Husbandry.
Medicine – Doctor –Gynecology, Pediatrician, Dermatology, Orthopedics, Orthopedics, Ophthalmic, Ophthalmic, Cardiology, Electro logy, Radiology, Endocrinology, General Surgeons, Plastic Surgeon, Neuron Surgeons, Thoracic Surgeons, Trauma Surgeons, Urologist, Sexologist, Oncology, Anesthesiology, Gastroenterology, Psychiatry, ENT/Ear Nose Throat Specialist, Pathologist
Homeopathy
Ayurvedic
Dentist
Unani
Para Medical Science –Speech Therapy, Audiology, Physiotherapy, Nursing, Occupational Therapy, Medical Lab Technology, Optometry and Ophthalmic technology, Prosthetics, and Orthotics, Nutrition And Dietetics
Allied Fields – EEG technician, Hospital manager/Administrator, Medical lab technologist, Nuclear medicine technologist, Radiation technology, Pathology technology, Respiratory therapist, Sonographer technician, Operation theatre assistant, Naturopathy, Yoga therapy, Massage therapy, Acupressure, Acupuncture
Vet nary Science
Biotechnology
Biosciences – Agriculturist, Botanist, Zoologist, Microbiologist, Biologist, Horticulturist, Floriculturist, Environmental Science,
Pharmacy– Clinical Research
Home Science
BioMedical
Bio-Chemist
Fishery Science
Forestry and Wildlife
Marine Biology
Food Technologist
+2 Science with PCMB (bio-math)
Those with +2 sciences Bio-math can take up either engineering or a medical career. For that, they require appearing for the entrance examination conducted by All India Council for Technical Education (AICTE) every year as per the directions of Ministry of Human Resource Development (MHRD), Government of India for getting admission.
If not interested in engineering and medical field, 10+2 science students can go for B.Sc. (Bachelor of Science) program with their choice of interest which can be followed by Master's degree (M.Sc.), Ph.D. and M.Phil.
Teaching is also another option.
Career Options after 12th Arts/ Humanities
The third stream is arts. Arts students have a lot of choices to choose the best career among all. Unfortunately, arts in India are not considered to be a great career option. But this is not true and you have a lot of options available. Bachelor degree in any of the arts subjects is the best option for those interested in higher studies.
Psychology – Industrial psychology, Social psychology, Counseling psychology, Clinical psychology, Special education, Learning disability, Human development, Human resources, Mental retardation
Sociology – General Sociology, Indian Society, Social Work, Sociology of health, Science and Technology, Environment, Sociology of religion, Occupational sociology, Cultural studies, Social exclusion and Inclusive policy, Social anthropology, Sociology and Mass media, Gender and Society, Sociological theories, Social demography, Industrial Sociology, Criminology
Economics – Agricultural Economics, Business Economics, Quantitative Economics
Philosophy
Literature – Linguist
Law – Company Secretary, Legal writing, Defense writing, Notary, Law process outsourcing, Solicitor, Civil law, Criminal law, Corporate law, Property law, Securities law, Income tax law, International law, Property law, Information technology law
History – Heritage Management, Curator
Geography – Philosophy in geography, Applied geography, Geographic information science and systems, Geographical Cartography, Remote sensing and Geographic information science, Geoinformatics
Anthropology – Physical or Biological Anthropology, Social anthropology, Prehistoric Anthropology, Applied Anthropology, Linguistic anthropology, Forensic anthropology
Archaeology – Medical archeology, Eastern archeology, Marine time archeology, Archeological heritage management, Egyptology, Epigraphy, Numismatics, Landscape archeology, Ethnography
Public administration
Library Sciences
Teaching
Varieties of creative courses are available in Arts/ Humanities students after their 12th grade. Bachelor courses are available in the fields of advertising, fine arts, journalism, mass communication, media studies, business management, performing arts, travel and tourism, hotel management and much more. These courses have overwhelming interest and are really beneficial for students who are willing to take this as a profession.
Enthusiastic students can take up courses in fashion technology, jewelry design, aviation, radio jockey, packaging or industrial design. Those students interested in foreign languages can study languages of their choice of interest like French, Spanish, German, Russian, Japanese or Chinese for opting a translator's job in Embassies.
After graduation, candidates can plan for Civil Service Examination. Those with a flair for writing can take up content writing as a career option. There are plenty of short-term duration professional courses are available in fields of computers, hospitality management, business administration etc. which compensates a promising career with a great salary and job satisfaction.
As a result, whether you are from science, commerce or arts there are a lot of courses to pick from and make a privilege for your career.
About Author
admin