November 10, 2018
Best Safety Tips For Kids On A Bounce House
Keeping Kids Safe On a Bounce House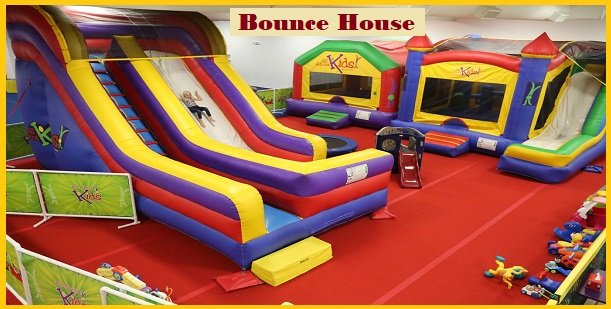 Bounce houses, also known as inflatable jumpers, moonwalk bounces, bouncy castles, etc. Bounce houses are popular toys for children at many parties and outdoor events. Toddlers can jump up and down on the hot-air balloon floor and protected by the soft air walls, looks very safe compared to skateboarding. But will it cause children to be injured? Yes, it can be unsafe if you don't use it appropriately. More than 90% of these injuries were from bounce houses. We have seen a recent increase in the number of injuries from bounce houses.
You must read also: 10 Moral values you should teach your children to lead a great life
Bounce House Injuries
According to the Child Injury Prevention Alliance, the number of bounce house injuries has increased to more than 30 people every day over the past 20 years, about one every 45 minutes. Some of them have been seriously injured and even deadly. The injuries include soft tissue injuries, strains and sprains, lacerations, fractures, concussions, and others. Summer is dependably a peak season for bounce houses rentals that means your child will have more chances to be invited to a birthday party with a bounce house. Many parents don't take it seriously. They don't pay much attention to the bounce house safety because it seems pretty safe. It is undeniable that the possibility of an accident of bounce house is certainly low, but it doesn't mean that it will not be serious. Have a look at the below mentioned worst accidents, aren't these enough to attract your attention?
In December 2007, Castle Rock, Washington: A 3-year old boy was killed in an indoor bounce house when two adults fell onto him and fractured his skull.
In June 2011, Nassau County, New York: Three bounce houses were lifted and rolled by a gust of wind and caused 13 people to be injured.
In May 2014, South Glens Fall, New York: Two children in kindergarten were seriously injured when they fell from a bounce house after it was blown away by a gust of wind. The wind blew them up to 50 feet in the air. One child landed on a parked car and the other was on black-top.
In May 2014, Jefferson County, Colorado: A bounce house was blown 300 feet, throwing out a 10-year-old girl immediately. An 11-year-old boy was got injured as the bounce house kept on being blown and flipped more than 300 feet.
In July 2014, Sparks, Nevada: During the celebration on Fourth of July, an inflatable slide was blown three stories into the air, causing two bystanders to be injured.
In October 2014, Nashua, New Hampshire: Two brothers, ages 2 and 3, were hospitalized, the younger in critical condition. The bounce house they were in at a Halloween festival was swept 30 feet into the air and then crashed into an orchard. The bounce house owner was charged with several wrongdoings for operating improperly.
In June 2015, Guangxi, China: A 3-year-old girl died at a birthday party when she fell from a bouncy castle that was blown by a gust of wind.
In March 2016, Essex, England: A 7-year-old girl was killed in a bouncy castle when it was blown away. A man and a woman were accused of doubt of homicide by gross carelessness for the situation.
In May 2016, Houston, Texas: During a school Carnival, when a strong wind blew a bounce house more than 30 yards across a football field and into a fence, 10 people were injured.
In May 2016, Fort Lauderdale, Florida: A waterspout moved to the shore and lifted a bounce house, throwing three young children 20 feet onto the sand below.
From the above accidents, we can see that most of the bounce house injuries are caused by improperly set up and awful climate, and incorrect use. Obviously, everybody needs to learn some basic bounce house safety tips since the children will use a bounce house. There are some safety tips to observe so that everyone can have a great and safe time. So keep your children safe in a bounce house without ruining the fun. Follow these safety tips for kids while jumping on Bounce houses.
So What Should Parents do as Safety guidelines?
Here we are sharing some best safety tips for kids on a Bounce House.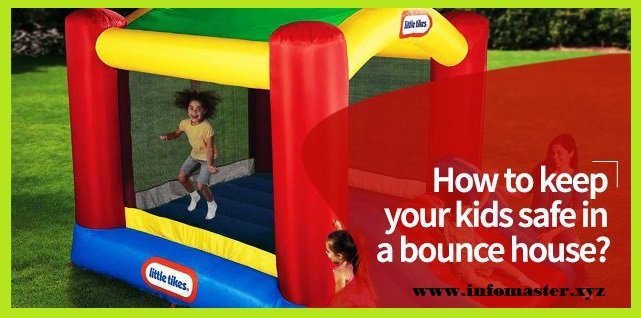 Safety guidelines on bounce house | bounce house safety tips | bounce house safety rules
Make sure the house is strongly anchored to the ground. This goes for party hosts as well as parents permitting their kids to jump. Every one of the four corners ought to be staked into the ground and weighted down. Follow manufacturer's instruction for proper anchoring of the bounce house.
Follow all the recommended guidelines for safe installation including anchoring. The bounce house should be arranged far from any fences, greenhouses, branches, etc., which would be risky should a child fall onto them.
Monitor the weather. Sudden wind gusts, lightning storms, and similar weather events make an unsafe condition for these inflatable amusement devices.
Kids should take off footwear, eyeglasses, and jewelry before getting on the set.
Take any sharp objects (pens, keys) out of their pockets/hands before playing (they could easily cause puncture injuries).
Do not let children of significantly different age and size onto the bounce house at the same time. Smaller children are at risk of injury from colliding with or falling under an older child.
Do not allow adults or children who are larger than the height/weight that the bounce house is designed for.
Food, drink, bottles, glasses etc. should not be taken onto the bounce house.
Supervision should be maintained all the time. If supervision cannot be continued, the bounce house should be deflated and moved away.
Children should be learned that they must not push other children of the inflatable. If it is a flatbed, this is especially important so as to avoid broken arms and legs. If the bounce house is of the walled type, at that point children should not be allowed to bounce against the walls or dividers and collide with each other –this can result in collision injuries.
Follow the advice given on the maximum number of children permitted at any one time and let them on and off in a controlled manner.
Children should not be allowed to climb onto the outside walls. Flips and unpleasant play should also not be allowed.
As parents or party organizer, you must choose a responsible inflatable rental company to set up and operate your bounce house, ask them if they have any measures to prevent the accidents. Let us manufacturer and users work together to reduce the accidents and injuries from inflatables!