January 9, 2019
What Is Keyword Proximity, Prominence, and Density In SEO?
The most important thing to get a huge amount of traffic from the search engine is that we need to optimize the search engine while writing the article. To optimize an article for a search engine, we should follow many terms of SEO. If we follow these terms properly, our post will be rank in a good position in Google or any other search engine. The main point is that there should be a vast knowledge of SEO to write SEO-friendly articles. So, we are going to talk in this post about keywords: Proximity, Prominence, and Density
What is Proximity, Prominence, and Density?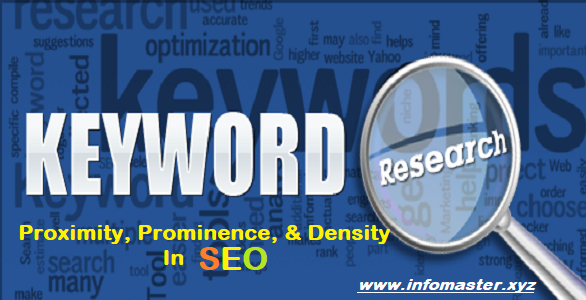 These three SEO modules belong to On-Page optimization, we should always take care of these three while optimizing & placing keywords in our articles. To be perfect on the above terms, let's know about them below.
What is Keyword in SEO?
The keyword is the most important and popular word for any sentence. In SEO, the keyword is a search term used to find information in search engines like Google, Bing etc. Keyword plays an important role in SEO. When you write a word or phrase in the search bar for searching something is called "Keyword". It is more important to be familiar with that how the keyword search is working. Firstly, you should know what users are looking for and what type of keyword they use in search engine related to your content. When you understand the user then you get good traffic for your business or website.
Why Keyword is Important in SEO
Keywords are important in SEO for every business because, with the help of exact keyword, you can target your right audience. Use of right keyword will give success to your business. If your keyword is relevant to your content then user easily finds your article on search engines. A right Keyword which creates the relationship between people who are searching and content which is provided by you. Your content should be fresh or unique because search engine shows those results all the time. A keyword always gives you high ranking in search engines and drive more traffic to your website. All searches depend upon the keywords and a huge amount of traffic depends on the informative content. So, you must try to use of the right keyword which works for your business or website.
Type of Keywords
There is essentially three type of keywords in SEO.
Generic Keyword: This is also called a short keyword. The word written in the sentence is called a Generic keyword. Example. Blogging, Business etc. These keywords search by those people who aren't aware of your company or brand and people usually use these types of keywords at that moment when they haven't chosen a specific brand or company.
Broad Match Keyword: The word or phrase used to search for a particular product or brand is called a broad match keyword. Example. Buy Apple, SmartWatch. Broad match keywords are those keywords which user can search in search engine with a particular product name.
Long Tail Keyword: The combination of 3 or 4 keywords is called long tail keywords. Example:- How to Earn Money Online. As a result, these keywords provide you with more quality leads and improves your ranking in the search engine.
Read Also:
What is Keyword Density?
The number of keywords you use in an article is called "Keyword Density", Example: if you have an article of 2000 words, and your keyword is "weight loss" then you should use the keyword "weight loss" 50 times in the whole article, its density will be 2.5%. Keeping SEO in mind, the maximum keyword density you can put in an article is nearly 3%-4%, while if you keep the Keyword Density up to 2% that would be better and things will be balanced.
Formula: (Total Number of Keyword/Total Number of Word) × 100
What is Keyword Prominence?
The right placement of the keywords in an article is called "Keyword Prominence." There are many places you can put your keywords on the page so that search engines can find out them easily. Mostly, the keyword is being presented in different places on the page. Here we are shown the keywords: Where to keep them in the exact place.
Post Title (One Time)
Post Permalink (One time)
Meta description
Post first and last paragraph
Alt tag of Image, Description, and Title
Post heading i.e. H1, H2
In Between Article
So the earlier you show up your keyword, the more it will be better for you in terms of "Keyword Prominence". However, make it balanced, and don't do keyword stuffing which can terminate your blog/website within days.
What is Keyword Proximity?
The distance between two words in a keyword is called "Keyword Proximity", for example, if a person searches for How to Reduce Body Weight and Google shows the result Body Weight & How to Reduce, so, in this situation the exact keyword is Reduce Body Weight while in Google's result there is a distance between the words Body Weight  and Reduce, as a result, this shows "Keyword Proximity", the nearer the exact words are, the more it will be measured as high "Keyword Proximity" which is good and better. If all words are exactly next to each other that would make it 100% perfect, however, if one word is away from the others that would make it 80% perfect. And, if there are three words as shown in the above example and all are away from one-another then it means that there is less than 50% keyword proximity, which is not valuable at all from search engine's point of view.
Conclusion
The strength of content depends upon the keywords because you can't get traffic to your website or blog from search engines without the implementation of the right keywords. If the content on your website which is very helpful and informative for the users but you didn't maintain the keyword prominence, proximity, and density then your target users won't find your content on search engines. So the correct use of keywords is very important in SEO to get a huge amount of traffic from search engines.